Whole Home Audio   |  Outdoor Sound Systems  |  Business Audio Installation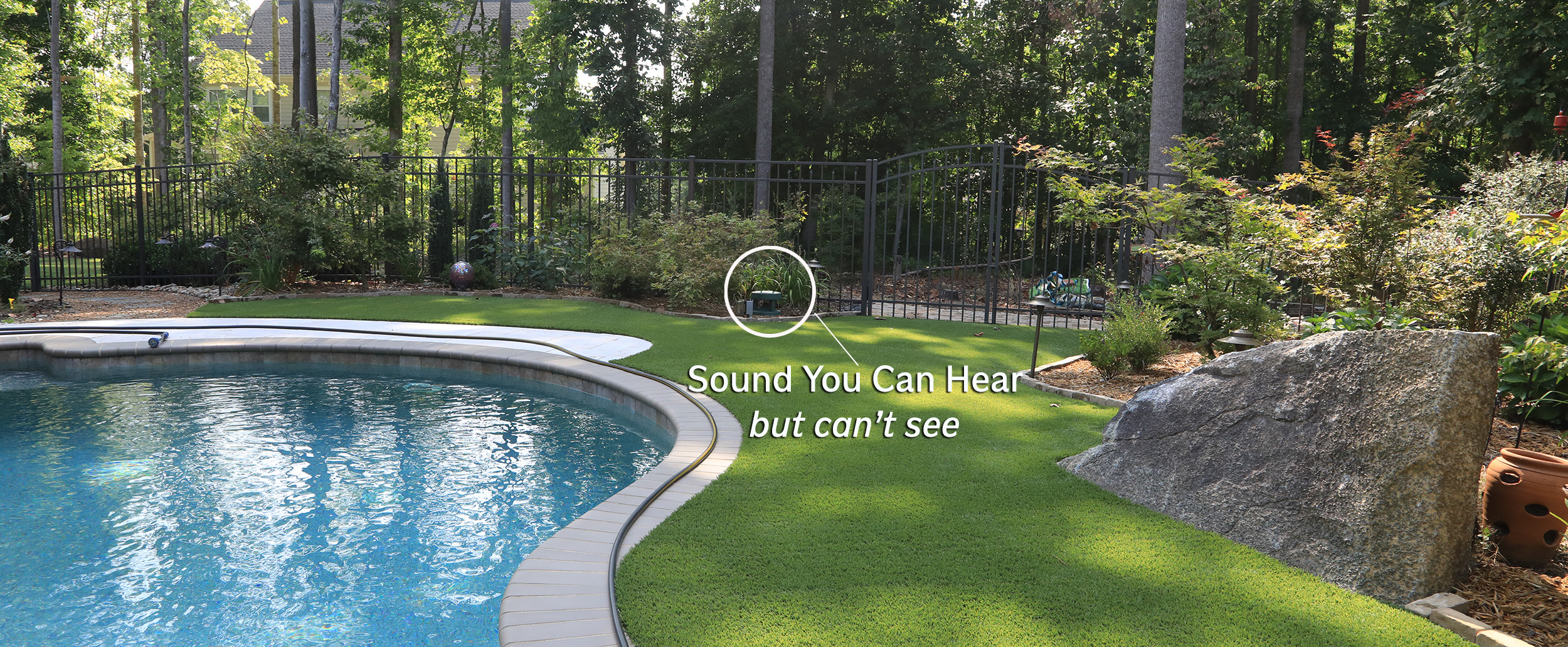 Why Choose Audio Video Charlotte for Your Next Sound Installation Project
Call us before you buy sound equipment online or head for the big box store. Purchase your sound system directly from Audio/Video Charlotte. You'll get custom recommendations and high-value products.
Our secret sauce is Dolby Atmos Technology. 
Our audio product selections and installation configurations are beautiful, but they are also technically savvy.  At Audio Video Charlotte we use a sound technology called Dolby Atmos that allows a user to be fully immersed in three-dimensional sound. 
The following is a breakdown of how we configure Dolby Atmos to get the most out of the sounds systems for our customers.
Dolby Digital has been a sound platform in surround sound technology since the early 90s. You may remember sitting in a movie theater and seeing the name "Dolby" flash over the big screen, but what exactly does it do, and what is the difference between Dolby Digital and Dolby Atmos?
Home Theater Channel Numbers
You may have seen number sequences like 5.1 or 5.1.2 while researching home theater or audio equipment. These numbers refer to the number of channels or subwoofers and speakers needed to build out an audio equipment system.
The first number is the number of speakers in the configuration. In a traditional surround sound system, six channels are used, feeding into five speakers or more. These speakers are to the left, center, right, and an additional two surrounding the seating in the room.
The second number is the subwoofer. Most configurations need only one, but some setups will require multiples.
The third digit is the number of Dolby Atmos speakers needed for the setup.
What Is the Difference Between Dolby and Dolby Atmos?
Dolby Digital was the first digital surround sound design created by matrixing sound to the center channel and surrounding speakers. The format allows the left and right speakers to have additional audio information and directs specific sounds to all the speakers. At that time, Dolby Digital was the standard for video and broadcast TV.
In 2012, Dolby Atmos added another dimension to the previous Dolby Digital platform. With Dolby Atmos, a listener is fully immersed in sound with a three-dimensional listening experience. The sound produced by Dolby Atomos is heard and felt all around the listener by a third overhead dimension. The audio is produced with specific details, vocals, and instruments in the sound to provide more clarity and depth.
Dolby Atmos Installation – Home or Office
Audio Video Charlotte recommends installing speakers in the ceiling to achieve the full sound effect with the overhead sound.
Dolby Atmos delivers a sound experience through positioned speakers that allow the sound to move throughout the room. Atmos takes the traditional 5.1 speaker positioning a step further and adds additional speakers to make it a 7.1 surround sound setup.
Equipment Needed For Dolby Atmos
True cinematic sound requires a receiver, TV, soundbar, and a processor, or streaming device that supports Dolby Atmos audio. We recommend a Denon AV receiver that's equipped with Atmos capabilities because these dynamic receivers also offer so many other great features such as built-in HEOS, 4K and 8K high definition, and Audio Voice Controls.
When shopping for a receiver, select that has the ability to physically play Dolby Atmos like a Denon AVR-X3700H. Many receivers are labeled Dolby Atmos-enabled; however, they lack the ability to play the true Atmos sound because they lack the number of channels or speaker outputs necessary for front and rear sound. Without the amp channels available, there is no way for these receivers to power the additional four in-ceiling speakers (Dolby Atmos setup), so they will only have the ability to power either a 5.1 or 7.1 design in a traditional fashion.
Spatial Audio With Dolby Atmos
In 2021, Apple released Spatial Audio with the Dolby Atmos feature for Apple Music. Listening to favorite songs with Spatial Audio is like listening to them for the first time. The music taps into your senses, making you feel every vocal, chord, and beat, and it feels like you are in the heart of the music. Dolby Atmos allows the sound to come from around and above like sitting in a room surrounded by speakers.
Want to try out Spatial Audio? Here is one of the many playlists in Apple Music: Hits in Spatial Audio. If you search for Spatial Audio in Apple Music, all of the content that is available will be found right in one place. Dolby Atmos enhances the music you love and transports you into a spatial sound experience.
Get Started With Audio Video Charlotte
The Dolby Atmos surround sound technology is found in many great audio-video products. What once was an awesome listening experience at the theater is now something people can enjoy everywhere, from home theaters to personal AirPods.
Ready to create a Home Theater with Dolby Atmos?  Give us a call today at 704-287-3334.
We can also help you upgrade your home entertainment system so you can start feeling the sound, it's that easy.