Have you been dreaming about the backyard of your dreams but don't know where to start?
No component is more critical to your quest for the ultimate outdoor relaxation experience than the TV you choose. There are TVs specifically designed and weatherized for outdoor use as well as TVs that aren't technically made for the outdoors but that provide a top-notch picture and may be safe for use on a patio depending on its location. Call us before you buy your outdoor TV online or head for the big box store. Purchase your outdoor TV directly from Audio/Video Charlotte. You'll get custom recommendations and high-value products.
Outdoor TVs Are Built Differently
Outdoor TVs must withstand extreme temperatures, rain, snow, dust, and many other forms of weather. They also must be able to perform despite the sun shining bright and insects flying and crawling around. Whether it's a cool night or a blistering day, outdoor TVs are built to brave the elements so that you and your household don't have to miss out on the big game or movie marathon. 
Outdoor TVs Are Brighter
Outdoor TVs are designed to be exponentially brighter than their indoor counterparts. Because their screens are rated at many more nits, the sun's bright light and reflection do not hinder the performance of outdoor TVs. Additionally, many outdoor TVs include an anti-reflective and anti-glare screen, which allows you to enjoy your visual entertainment on a hot, summer day without compromising the vividness of the picture.
All the Components Are Weatherproof
Screens are built to withstand the elements and every component of an outdoor TV is weatherproof. The ports and media compartments of an outdoor TV will not be affected by extreme heat, extreme cold, water, dust, or other common elements. Your outdoor TV and all the media devices you hook up to it will stay safe from damage. So, get ready to immerse yourself in that blockbuster in 4K resolution and bone-shaking sound!
Have the Best Entertainment Outside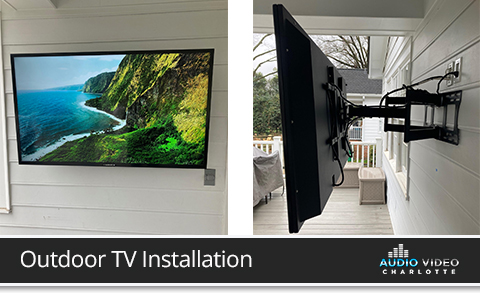 Depending on the access to an electrical outlet, it is important to find a spot that remains shaded for most of the day and stays out of direct sunlight. There are a several mounts that we use that offer different benefits for viewing. These include flat, articulating, and tilting mounts that all allow you to see the TV but will also keep it tucked away when it is not in use so you can enjoy the scenic outdoors. Here is a video of one of our favorite installs where we used a mount that can rotate the TV vertically so it does not obstruct this picturesque lakeview on our client's patio.
As everyone is spending more time outside these days, outdoor TVs are on the rise. Let Audio Video Charlotte design your dream outdoor entertainment space. In the meantime, check out some of our blogs on outdoor TVs. If you are just in the market for a new TV outside, don't forget to shop local with Audio Video Charlotte. We price match and guarantee and will be there for any questions.