The temperature's rising. And you can't wait to spend long Summer nights at home with the cool breeze flowing through your patio. You're excited to wind down to your favorite TV show each night, host movie marathons, and listen to soft music as you're surrounded by nature. 
Sounds like a good plan, doesn't it? But if you're going to make any or all of these activities a reality, you have to whip your patio into shape. And by that, we mean to get all the equipment necessary to put your entertainment experience over the top. 
At Audio Video Charlotte, we'll do it all for you. We'll come to your house and consult with you on what equipment will best suit your patio. We'll sell you the equipment, install it, and hide those annoying cords for a clean setup. We'll even show you how to use everything. 
But first, let's talk about the essential items your entertainment patio needs. Here are some of the best outdoor TVs, speakers, and entertainment options on the market:
Best TVs for Your Patio 
No component is more critical to your quest for the ultimate outdoor relaxation experience than the TV you choose. There are TVs specifically designed and weatherized for outdoor use. And there are TVs that aren't technically made for the outdoors but that provide a top-notch picture and are safe for use on a patio—so long as the patio is enclosed or you use an outdoor TV cover. We'll discuss a few of each below. 
Samsung The Terrace
This Samsung TV is designed for outdoor use, and it delivers stunning performance, even in bright environments. The Terrace is built to withstand the elements, and it's certified for IP55 water resistance. It's one of the brightest TVs on the market. It does a wonderful job of fighting glare, and it offers exceptional reflection handling. Like The Frame, The Terrace comes with Samsung's easy-to-use Tizen interface.
SunBriteTV Options
When it comes to outdoor TVs, SunBrite does it best. Here are a few of their outdoor TV options. 
SunBriteTV Veranda Series Outdoor TV 
The SunBriteTV Veranda Series is an outstanding all-around outdoor TV. It gets 50% brighter than a standard TV, and it can operate in temperatures as low as -24 degrees. The Veranda Series TV, remote control, and connectivity ports are all weatherproof. And considering its performance as a 4K HDR-capable outdoor TV, it's quite affordable. This is the ideal TV for shaded areas. 
SunBriteTV Pro Series Outdoor TV
The SunBriteTV Pro Series is another top contender for the best outdoor TV. It is not only water-resistant and durable, but it also houses a tempered glass shield that protects the LED screen in active environments. It is able to operate at any temperature from -40 F to 122 F! Whether you need a TV at home or something more for commercial use, the SunBriteTV Pro Series could be the with choice for you.
SunBriteTV Signature Series Outdoor TV
The SunBrite Signature Series is a great outdoor TV for both partial and full sun areas. The ability to become 3x brighter than a normal TV allows this outdoor TV to deliver an image in 4K resolution. So gear up for your start of Summer party and get the best of the best for your patio. 
Pro tips:
Always use an outdoor rated TV mount: Audio Video Charlotte always uses the best equipment for your project. 

We can check your wifi in the area of the TV: WiFi will play a major role in your TV connection because hard wiring is most likely not an option. We can check and strengthen your WiFi connection.

Get us involved early! We can run outdoor wires before the contractor lays any concrete foundation. This will keep your project clean and on budget.

We use direct burial cables: Direct burial cables are weatherized and are able to withstand the elements.

Use indoor TVs outdoors: In some instances, if you are going to place a TV in a well protected area, you can use a more inexpensive indoor TV.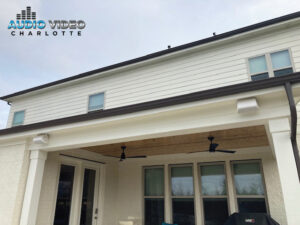 Best Speakers for Your Patio

At this point, you have a pretty good idea of what kind of TV will work best in your relaxing-yet-riveting entertainment patio. Now, let's move on. Here are some top-notch outdoor speakers for your consideration:
Polk Audio Atrium 4 Outdoor Speakers
The Atrium 4 outdoor speakers by Polk Audio are perhaps the best overall outdoor speakers money can buy. They're easy to mount, their acoustics covers a broad range, and they come with a five-year warranty. Oh, and they're reasonably priced. The Atrium 4 speakers come in black or white, and each speaker includes a 4.5-inch dynamic driver and a 0.75-inch aluminum tweeter. 
Klipsch AW-650 Outdoor Speakers

These speakers are also in the conversation for being the best overall outdoor speakers, and they have a beautifully understated design. Klipsch is renowned for manufacturing speakers with superb sound quality, and the AW-650s are no exception. Each unit has a 6.5-inch woofer and a one-inch titanium dome tweeter. These speakers come with a five-year warranty as well, and you can get them in black or white. 
Definitive Technology AW6500 Outdoor Speakers
Definitive Technology's AW6500 outdoor speakers deliver phenomenal bass. Each unit includes a 6.5-inch mid/woofer audio driver, a one-inch tweeter, a 5×10-inch bass radiator (say what?!). Perhaps the most impressive aspect of these speakers, however, is that the treble and midrange are not impacted by the powerful bass output. 
Steel mounting brackets allow you to rotate the AW6500 speakers 360 degrees, which does wonders for helping you find the ideal sound direction for your patio. You can get these speakers in black or white, and given their top-notch audio quality, they come at a fair price.
SnapAV Episode Rock Series Outdoor Speakers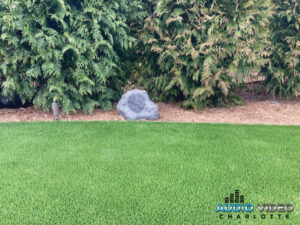 SnapAV has what you need! With their improved all-weather design and premium audio, the Rock Series Speakers can complete your backyard. Unlike normal speakers, the Rock Series Outdoor speakers are exactly what they sound like, they are rocks! Made to fit in with any landscaping, in a garden, or mounted on a wall.

Best Entertainment for Your Outdoor Patio
Streaming
Once you have your TV and speakers, it's time to look at the entertainment. There's no shortage of options on the market, and it can get overwhelming trying to find the perfect fit for your patio. That's why we've narrowed down the choices for you. Here are some of the best entertainment options to consider, all of which will hold up in an outdoor setting:
Apple TV
Ready to stream? Make sure you can get the game, your favorite show, or the best movie for movie night. Whatever it is, Apple TV is the way to stream on your outdoor TV. Some outdoor TVs won't be able to hardwire cable outside, so Apple TV is the best way to make sure you can still utilize your Outdoor TV in the same way. Give us a call at Audio Video Charlotte to discuss your options. 
Patio Games
Yes, electronics are important for any patio. But, what about the other perks that can be added? Simple answer – patio games! Whether it is for a larger group or just you and your family, here are some backyard games for you to check out.
Corn Hole – Customize your corn hole boards and make them special. They are all-weather, just like your Outdoor TV and speakers, and ready to get the party started. 

Ring Game – A game of precision and focus but a simple setup. All you need is a string/rope, a hook to go on the wall or beam, and a ring.

Giant Jenga – Your favorite childhood game, now giant! This is the perfect game to add to a patio or smaller outdoor space. 
Conclusion 
If you're dreaming of creating the most stellar entertainment patio that there ever was, this is the season to do it. Consider the TVs, speakers, and entertainment options mentioned above, and don't hesitate to contact Audio Video Charlotte for a free consultation. And remember that we thrive off of making the entire installation and setup process as easy as possible for you!