According to the Charlotte-Mecklenburg Police Department, there was a decrease of -16% in residential burglaries from 2017 to 2018 (3,543 compared to 4,220). As of September 30, 2019 (end of the third quarter), the numbers fell another 4.3% compared to the third quarter results of 2018. Thanks to watchful residents and new digital burglary systems, burglary rates in Charlotte have fallen in recent years.
This is good news, much of which can be credited to technological advancement in the home security industry. Nonetheless, as of September 30, Charlotte experienced 2,567 residential burglaries in 2019. Smaller numbers, yes, but if your home was included in that statistic it was no small deal! Of note, police indicated that a high percentage of those burglaries were committed at homes without an adequate security system in place.
So why don't all Charlotte home owners have a system?  For many, the technology is overwhelming. That's where Audio Video Charlotte can help. From doorbells to outdoor/indoor cameras to smart home technology, we can provide all the high-quality security tech you need to make your home safe. And we'll take care of all the installation at an affordable price.
In this article, we'll expand on why you need a home security system, highlight some of the best technology on the market, and discuss why it's essential to have your equipment professionally installed.
Pros for Home Security
Yes, a home security system ultimately protects your home and household against break-ins and other types of property crime. But there are many other reasons why investing in home security tech is worth considering.
24/7/365 Monitoring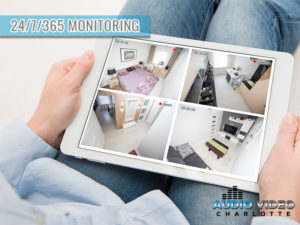 Most break-ins occur when residents are not at home. While this means that your family is safe in such a scenario, you still have your home, pets, and valuables to think about. With smart security and surveillance systems, you can monitor the inside and outside of your home at any time, from anywhere you are. So, whether you're at work or out of state, you can check in on your property whenever you feel the need.
If you sign up for 24/7 monitoring, a security company will constantly be monitoring your property. If there is any suspicious activity, the company will track it and send emergency services if necessary.
Watching Your Pets 
Another advantage of having a good security system is that you can keep an eye on your pets while you're away from home. There are cameras on the market specifically for surveilling and recording pets, such as the models made by Furbo and Kamtron. However, a lot of people simply integrate indoor and/or outdoor cameras into their security system. Nest and Ring both offer high-quality security cameras as add-ons to their security systems. Furthermore, these cameras allow you to keep tabs on babysitters, cleaners, and other people who spend time in your home while you're away.
Protection from Carbon Monoxide
Carbon monoxide is a dangerous, odorless and colorless gas that cannot be detected by humans. It most commonly derives from combustion fumes from furnaces, stoves, open fires (as with a fireplace), and other sources. Carbon monoxide poisoning, which can cause severe health problems or even death, can accumulate without you noticing.
By equipping your home security system with a carbon monoxide detector, you will be notified anytime carbon monoxide reaches a dangerous level in your home. That way, you and your family will be able to leave immediately and seek medical attention.
Preventing House Fires
Another way that a home security system can benefit your family is by warning you when there is smoke detected in any area of the home—and warning you early enough for you to do something about it. Also, it can even pinpoint the source of the extra heat.
Moreover, you have the option of equipping your security system with heat detectors, which can identify changes in temperature in each room, even when the changes are minute. Thus, a security system armed with these heat detectors can go a long way in preventing fires.
Managing Your Home's Electricity
Most of us have left our house only to realize later that the lights or dryer are still on. When you have a home security system, you can simply turn lights and appliances off from wherever you may be. Also, you can use the technology to regulate your heating and air when you're away, such as turning down the temperature during winter or turning it up during summer. Needless to say, these options can both make your home safer and save you a lot of money on your energy bill.
Medical Assistance
Along with protecting your property and household from burglary and other types of crime, having a security system can also prove useful for medical purposes. This is particularly true for seniors or homeowners who live by themselves. By integrating equipment such as medical alert buttons and emergency pull cords in your security system, you can have emergency services on the way to your home within minutes of using them.
Lower Insurance Premiums
Increased safety is the most important draw of having a quality security system installed. However, saving money is also a plus. As a homeowner, you know the costs associated with homeowner's insurance. Your premiums are largely determined by who your insurance provider is, the level of coverage you have, what kind of home you have, where you live, and many other factors.
The purpose of paying for insurance is to safeguard yourself in the event that your property is damaged or that valuables are lost. Here's the thing: You will likely get a significant discount on your premiums if you have a top-notch security system installed, because the likelihood that the insurance company will have to pay out is significantly reduced.
Peace of Mind
Finally, all of these reasons for getting a security system will result in greater peace of mind for you and your family. You will know that your property and household are better protected from burglary, vandalism, fire, and other dangers—whether you're watching a movie in the living room, are away at work, or are out of town. And if an issue does arise, your security system will alert the authorities or emergency services at once. Armed with this knowledge, you and your family can rest a little easier at night.
HIGH-QUALITY TECH TO CONSIDER 
When it comes to the latest home security technology, Nest and Ring are two of the most renowned companies. The security systems of both companies share key similarities—both are affordable and both incorporate world-class residential security technology. With that said, here is a little information on the Nest and Ring security systems, along with some of the accessories available:
Nest Products
The Nest Secure alarm system comes standard with the Nest Guard hub, Nest Detect sensors, and Nest Tag key fobs. Buyers can expect to pay about $400 upfront for the system. While this is a little higher than some of the other systems on the market, it doesn't involve a monthly fee or mandatory professional monitoring as others do. Therefore, many people pay the $400 once and are done.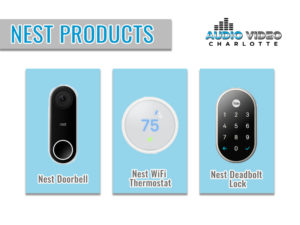 The components of the Nest Secure alarm system themselves are top-notch products—with beautiful, clean design and reliable function. The Nest Guard is the system's hub from which the entire system is controlled and activated. You can put the Nest Detect sensors on a wall to monitor movement, but they can also be used as window or door sensors. The Nest Tag key fobs provide homeowners with easy access and control of the alarm system; that is, you don't have to worry about punching in keypad numbers or trying to handle your phone when your hands are full.
There are several smart-tech accessories that can be added to the Nest Secure alarm system, such as:
Nest Protect smoke/carbon monoxide detectors
Nest Cam/Cam IQ (indoor and outdoor surveillance cameras)
Nest Hello doorbell camera
Nest Thermostat/Thermostat E
Nest x Yale keyless deadbolt
Owned by Google, all these products can be seamlessly connected, along with a Google Home smart speaker and many other smart home devices on the market. It's also worth mentioning that you can choose world-class professional monitoring by Brinks, which typically costs $19/$29 a month.
Ring Products 
While the Ring home security system shares similarities with Nest Secure, there are some key differences. Upfront, Ring Security is less expensive. The security package comes in three sizes—small, medium and large—starting at $199, $259 and $329, respectively. And there are no monthly/annual fees for basic security, though you have the option of adding a camera that records video for $3 a month and/or professional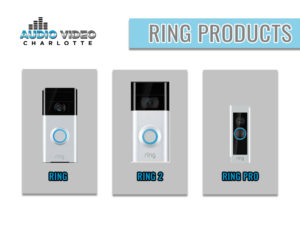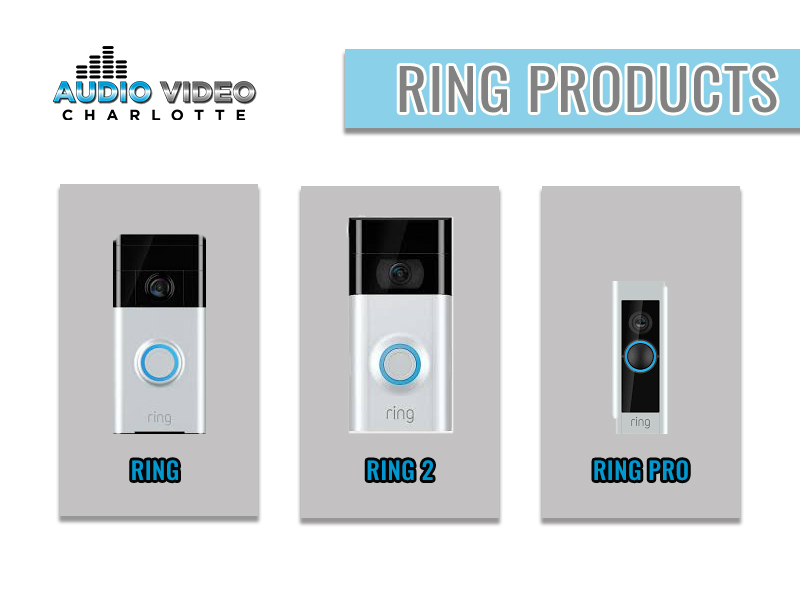 monitoring for $10 a month.
The Ring Security system comes with a base station through which every function is processed and the alarm is sounded, and a keypad for arming, disarming, and viewing the status of the system. It also provides a contact window/door sensor, a motion sensor with passive infrared (PIR), and a range extender that amplifies the system's network signal so that you can connect compatible devices in other areas of the home.
Ring is owned by Amazon and can be used in conjunction with Amazon Alexa and tons of smart home devices. Furthermore, Ring offers other quality products that can be integrated into your home security system, such as a floodlight camera, battery-powered spotlight camera, and video doorbell, the last of which is a product that helped establish Ring in the security industry.
There are three video doorbells available: Ring Doorbell, Ring Doorbell 2, and Ring Doorbell Pro. While there are key differences in price and function between these models, all of Ring's video doorbells include a doorbell, a video camera, motion detection, night vision, a live video feed, and two-way audio.
THE IMPORTANCE OF HAVING EQUIPMENT PROFESSIONALLY INSTALLED 
Boosting the security of your property and household is something best left to the pros. As with any profession, installation professionals possess the knowledge, skills, and experience necessary to do the job thoroughly and correctly.
You can buy all the right technology that makes up a top-notch security system, but it won't work unless every single component is installed correctly. Misplacing a camera or sensor or not having a full understanding of how to use your security system can leave you vulnerable to undetected break-ins and other threats.
Having your security system professionally installed is the only way you can know for sure that it will function exactly like it's supposed to. Plus, an installer will be able to explain to you every detail of your security system, and they can use their expertise to show you how to most effectively use the system.
Not only is having your security system professionally installed the safest way to go, but it's also the easiest. All you have to do is make time in your schedule to be home while the installer does their work. No reading confusing instructions or worrying about things you may have missed—you can simply relax and do other things while the professional takes care of it. Ultimately, going this route will save you valuable time and provide you with peace of mind. And if you let our team at Audio Video Charlotte handle it, you are guaranteed top-notch service at an affordable price.
Conclusion
Having a quality home security system professionally installed can go a long way in keeping your home and your household safe from break-ins and other property crimes. Look into all the available security systems and accessories on the market to determine what kind will best meet the needs of you and your family. And remember to get in touch with us at Audio Video Charlotte. We promise the best service you can find at a price you can afford!