Since 4K is now mainstream and the standard for new TVs, you would assume that every cable provider is on board with offering 4K content right?  Unfortunately, that hasn't been the case so far however we are starting to see 4K content popping up from multiple cable services.  So where can you find 4K cable programming?  Here is the complete guide to viewing in 4K.
Satellite
Although content offerings are very limited, 4K via satellite is available from both DirecTV and Dish Network. These satellite providers deliver pre-recorded content, live sports, events, and concerts in 4K to their subscribers.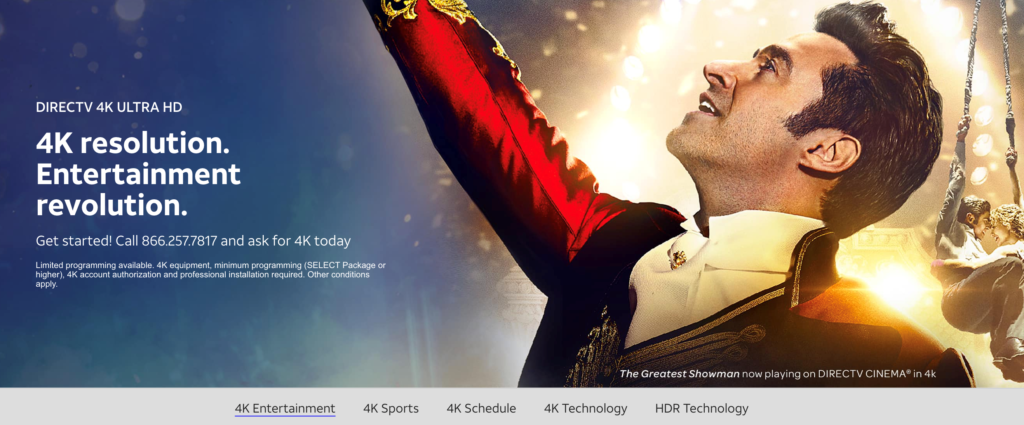 As the first provider to offer 4K, DirecTV includes 100+ blockbuster titles, travel and adventure documentaries plus IMAX films all in 4K HD.  In order to get 4K, you need at minimum DirecTV's value-packed base package called the Select Package. This package comes with 155+ channels including a few dedicated 4K channels where all of the content is 100% 4K all of the time.  The 4K packages range from $59.99–$134.99 per month for the first 12 months and require DirecTV's 4K equipment in addition to a 24-month commitment contract.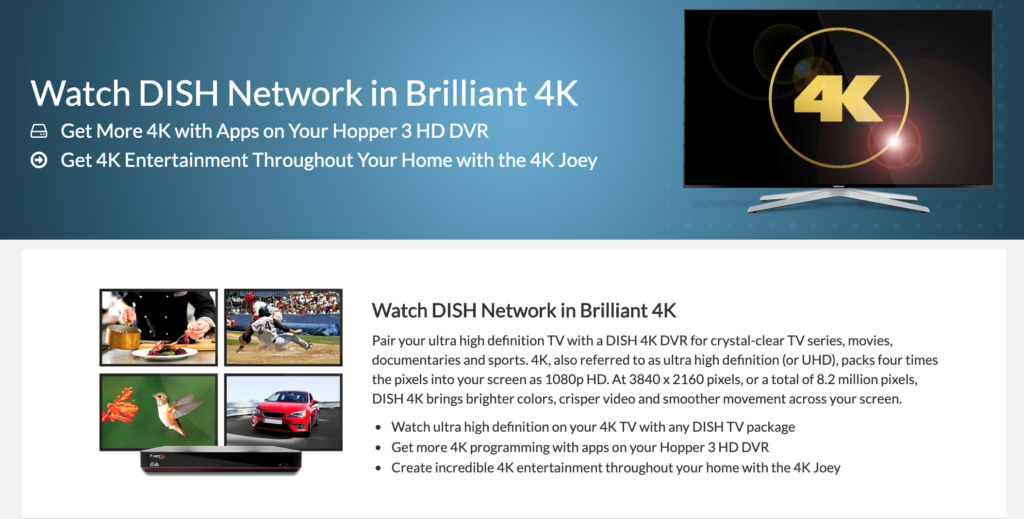 DISH requires the Hopper 3 HD DVR and a DISH 4K Joey with your 4K TV to access DISH's library of On Demand and live 4K content.  The Hopper 3 is equipped with YouTube and Netflix so you can watch 4K TV shows, videos and movies straight from one device. The 4K DISH packages range from $59.99–$89.99 per month plus an extra $5 per month for the Hopper 3 HD DVR and require a 24-month commitment contract.
Cable
There are some additional cable network providers offering 4K to mention.  Depending on where you live in the US, Xfinity is a cable provider that offers 4K but unfortunately North Carolina is not part of their service network.  Our local service provider in Charlotte, NC is Spectrum cable.  Spectrum offers 4K by allowing their subscribers to view 4K content using Spectrum's streaming site.  If you have an Apple TV 4K, you can instantly connect to Spectrum since the Apple TV 4K will detect the Spectrum broadband network and will automatically sign in to the Spectrum TV App as well as all the supported apps within your service agreement.  Spectrum makes the login process seamless and will not require you to enter in your username and password because the Apple TV automatically connects.
Video technology is evolving but as of right now, there are not a lot of 4K cable broadcasts out there but they are in the works.  Just hold on tight because 4K is here to stay and more content is becoming available to viewers every day.  If you are interested in taking the leap into 4K, give us a call 704-287-3334!  Audio Video Charlotte delivers and installs the best assortment of 4K technology for any project.