Having a 4K TV is just one component of the complete 4K experience.  Many new 4K TVs offer "Smart" capabilities meaning they are equipped with apps and streaming services such as Netflix and Amazon Instant Video but when it comes to processing power, these TVs are really not that "smart." If you want to take advantage of the 4K experience, then you need the right equipment.
Devices
All of the 4K technology and equipment produces a sharper image quality and high resolution but without the right connective equipment, you will not be able to achieve true 4K.  4K streaming devices and 4K Ultra HD Blu-ray players in addition to 4k cables will give you the picture and sound quality that you are looking for.  Here's a breakdown of a few top devices on the market –
Blu-Ray Players
4K Ultra HD Blu-rays are available with both players and movies and include HDR (High Dynamic Range) for a more dynamic range of colors and picture.  This digital optical disc player replaces the original Blu-ray which unfortunately is not compatible with the Ultra HD Blu-ray discs. This means that you have to purchase a new player and discs to view 4K material but the upside is that the new player will still play your old DVDs and Blu-rays.
When shopping for a 4K Ultra HD Blu-ray player, there are plenty of features to look out for and do know that some do not offer built-in internet streaming.  These are two of our favorites:
Sony UBP-X700
Bring the experience of being at the movies home with this 4K Ultra HD Blu-ray Player.  Equipped with Dolby Vision™, the player's HDR resolution creates dramatic imaging with ultimate brightness while not sacrificing the deep and dark black tones.  The Sony UBP-X700 4K Ultra HD Blu-ray Player costs around $199.  It has trusted reviews and was voted as the best 4K Blu-ray Player for 2019 according to Wirecutter.com.  The Sony player supports major streaming apps and has a customizable interface.
Sony UBP-X800M2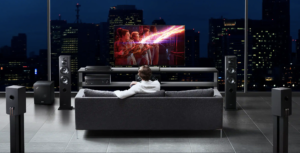 The Sony UBP-X800M2 is comparable to the UBP-X700 and provides identical image quality with Dolby Vision™.  Dolby Atmos is also included in this player and the sounds are treated as separate objects giving the perfect surround sound.  Some of the additional features include better build quality and support for Bluetooth headphones so you can listen without any disruption.  The downside is that it has fewer streaming services and at $249, it costs more than other players.
Streaming Devices
Roku Streaming Stick+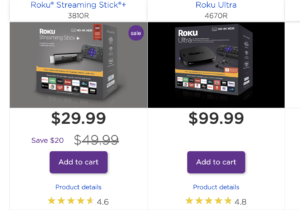 The Roku Streaming Stick Plus features Roku Voice for enhanced voice remote to play music and search for movies and shows.  It is compatible with Google Assistant and Alexa making it very easy to stream however the device doesn't offer Dolby Vision™ HDR.  This Roku does have less processing power than the Roku Ultra but offers a simple design for good price.  Regularly priced at $49.99, you can now find this model on sale for $29.99.
Roku Ultra
The Roku Ultra is the top of the line Roku streaming device with a powerful quad-core processor and has an Ethernet port for wired streaming and Roku Voice.  It features two additional storage options through either a microSD card and USB as well as a remote finder feature and personal shortcut buttons.  Premium JBL headphones are included with this device for $99.99 making it the best value for the price.  Both the Roku Streaming Stick+ and Roku Ultra are URC (Universal Remote Control) compatible.
Apple TV 4K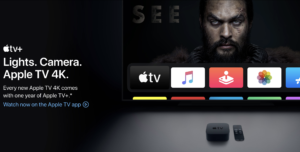 Apple TV 4K provides a sharper picture over the original Apple TV and is compatible with the Dolby Atmos sound system to provide three-dimensional audio.  There are a ton of great features in this device like voice control with Apple's virtual assistant, Siri.  With Siri, it is no longer necessary to type out what you're looking for, just ask for a movie, show, category or streaming app by saying something like "Show me comedy movies" or "Open Netflix."
With a new Apple TV 4K you get a 1-year subscription to Apple TV+ to watch Apple's original shows and movies along with thousands of movies to buy and rent. The library offers all of the streaming apps and TV network providers to bring you live and local content.  Starting at $179, the cost of the Apple TV 4K is at the higher end for streaming devices but is the best streamer on the market.
Amazon Fire Stick 4K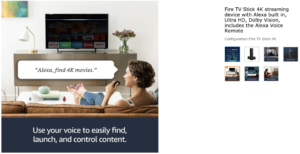 For $49.99, the Amazon Fire Stick 4K streaming media player has more power over the original Fire Stick and has a lightning fast processor.  The video quality is comparable to other streamers and finding 4K content is easy, just press and ask, "Alexa, find 4K movies."  Use the Alexa Voice Remote to operate compatible smart home devices or check the weather.  Alexa allows you to search and stream songs, artists and playlists from anywhere in the room. You can even access your music through Amazon Music, Apple Music, Spotify and Pandora all from this device.  One thing to mention is that the Fire Stick cannot be controlled by third party URCs.  This is definitely a disadvantage to our clients because this means more remotes needed to control multiple devices versus just one.
Need Help Deciding What to Buy?
Stay tuned for Part III of our Everything That You Need to Know About Watching in 4K series where we will dig into the final way of viewing 4K content through satellite and cable programming.  If you are concerned about finding the right 4K technology for your home or business, reach out to Audio Video Charlotte to learn more about how we can find the best equipment to meet your needs. Or contact us today at 704-287-3334 to get started.