If you are in the market for a new TV or have been shopping around, you will notice that 4K TVs are dominating the market. These TVs are known for their HDR, (High Dynamic Range) which offers a more dynamic range in picture.  Now that 4K has become more mainstream, finding some real 4K content to watch may be the challenge.  Since its introduction, content has been slowly emerging on services like Netflix and Amazon but it's still not available everywhere.  Here is the complete guide to viewing in 4K.
What Is 4K Anyways?
The most common resolution for a new TV is 4K.  4K refers to the horizontal screen resolution of about 4,000 pixels or 4 times higher than standard HD.  All of the 4K technology, equipment and content produces sharp image quality and almost delivers comparable depth to 3D, without needing glasses.  One thing to mention is that even if you have a 4K TV, you may not be able to take advantage of its high resolution without the right connective equipment like a steady internet connection speed of 25 megabits per second (mbps) or higher and 4K cables in order to stream.  It's even better to connect the TV or streaming device directly to the internet via an Ethernet cable to prevent unwanted interference where possible.
Streaming
As we are nearing the end of 2019, there is plenty of 4K content coming out, you just need to know where to find it and be willing to pay for it.  The first option is through streaming.  Streaming subscriptions from Netflix, Vudu, and Amazon all offer 4K streaming and just require a streaming device such as Roku, Amazon 4K Fire Stick, Apple TV 4K and Google Chromecast to access 4K content.  Let's break it down –
For just $16 per month, Netflix's Premium plan streams in HD and Ultra HD.  Unfortunately, not all of Netflix's library is available in 4K but most of the company's original series are now being shot in 4K so you won't miss out on the most popular content.  To find 4K content, select 4K in the category menu or search for the terms "4K" in the search bar.  Netflix recommends a download speed of at least 25.0 mbps to receive the best picture.
Vudu is a pay-per-view service that offers 4K.  Without having a flat monthly fee to pay, you just pay for each movie or TV show you want to watch.  The rental price for 4K movies start at $5.99 and up and purchasing 4K titles, range from $9.99-$29.99.  Before you can rent or buy on Vudu, you need to sign up for an account and ensure that you have a minimum of 11 mbps downloading speed.  This speed requirement is lower than Netflix's 25 mbps.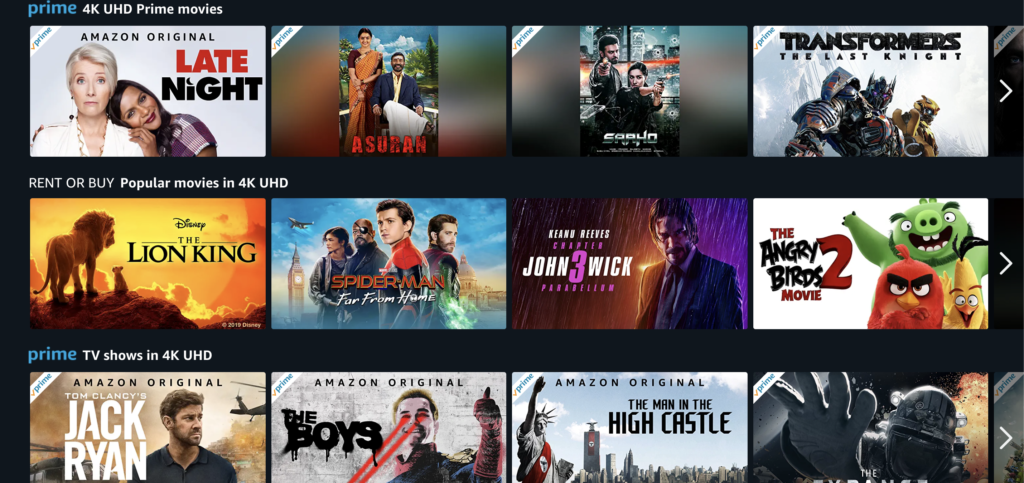 Amazon Instant Video is another platform to use for accessing 4K material.  It costs $120 per year or $13 per month with an Amazon Prime membership.  4K titles start at  $7.99 to rent and $19.99 to buy.  The Prime service has an assortment of 4K movies available from month to month and is available through their app.  Use the app with the Amazon 4K Fire TV Stick or with compatible TVs and other streaming devices.
Ready To Take The Leap?
In addition to Netflix, Vudu and Amazon, there are a few more applications out there that you can download to rent or buy 4K content but these are definitely the most popular and reliable.  4K is here to stay and more content is becoming available to viewers every day.  Watch out for Part II of our blog where we will explore the different devices for viewing 4K movies and shows.  If you are interested in taking the leap into 4K, just give us a call!  Audio Video Charlotte delivers and installs the best assortment of 4K technology for any project.