Moving into a new space is exciting. Once everything is in its right place and it begins to feel like home, there's only one thing left to do: figure out how to set up the electronics. Most electronics are left at the home when you move in and it can be difficult to know what to do with them. A cord here, a connector over there, lights flashing all around, what do you do?! Luckily, Audio Video Charlotte has trained professionals who are experts at connecting and cleaning up that media closet disaster. 
Here are some of the most common issues we see when it comes to setting up your media:
I would like to have my television mounted and installed to the wall but what is the best way to install, and how can I do this without tons of cords hanging below the television? 

I want surround sound speakers but I have absolutely no idea how and where to install them. 

How can I get faster WiFi speed without getting over-charged? 

Is setting up an outdoor television the same as installing one inside?
These are all very real situations and questions and they are often triggered by the fact that there are only a few ways to set up your media correctly, while there are millions of ways to get it wrong. The great news is Audio Video can help with any media stress inducer. 
Let's take a close look at how to approach some of these specific problems:
Setting Up Your Outdoor TV
Though it is a specific market, and the choices are limited, there are televisions made specifically for being outside. These have to be able to withstand extreme heat and humidity and any other outdoor element. If you're looking for a TV for a partially-shaded outdoor area, there is always an option to get a regular TV, and by choosing a less expensive, everyday television, you can save a bit of money and also stick with the brands you know. But, even with the most reliable brands, you may still have to replace this TV every 2-5 years.
When it comes to installing an outdoor television, we highly recommend letting a professional take care of it. One of our technicians can locate the best spot for the television—one where it will receive the least amount of outdoor interference—and we can also make sure it is securely fastened so you never have to worry about it drooping or, worst of all, falling and breaking. 
With outdoor TVs, there are a few models we recommend checking out if your outdoor area is exposed to a significant amount of sunlight and is open to the elements (by the pool or in a backyard barbecue area or any other area with uncovered outdoor seating). Depending on the coverage, even patios, covered decks, porches, pergolas, and other places that expose you to partial sunlight can benefit from an outdoor TV. 
The most commonly seen outdoor television is the Samsung Terrace. Its popularity is due its IP55 rating that assures protection from water and dust, plus the vivid, high-quality picture with QLED 4K and 2,000+ nit brightness levels. No matter the weather, you and your family can have year-round outdoor entertainment. 
But there are other outdoor TVs worth mentioning. One of our favorite outdoor models is the SunBrite Pro Series Direct Sun TV. It is best suited for areas with direct sunlight, and this model is an ultra-bright full HD TV with an LED screen that has a tempered glass shield that minimizes glare and protects the screen from sunlight and weather. Additionally, the Pro Series is built with specially-engineered thermal airflow vents that enable the TV to operate in pretty much any temperature, from -40°F to 122°F. 
Setting Up Your Surround-Sound Speakers 
The first thing on the list for creating massive, full-bodied sound is getting yourself an RX-A780 Aventage 7.2-channel AV receiver with MusicCast. This specific receiver uses classic techniques and modern technology to boost your sound and provide some of the clearest audio you will ever hear. 
 
Here's what the Aventage receiver comes with:
 
· 7.2-ch Dolby Atmos, DTS:X (5.2.2-ch) with Zone 2
· Wi-Fi, Bluetooth®, AirPlay 2, Spotify Connect and MusicCast multi-room
· Pandora®, Spotify, SiriusXM Internet Radio, TIDAL, Qobuz, Deezer, Napster and more
· HDMI with HDCP 2.3 (5 in/2 out)
· 4K Ultra HD, HDR10, Dolby Vision™, Hybrid Log-Gamma, and BT.2020
· YPAO R.S.C.
· Voice control with Alexa and Google Assistant devices or Siri via AirPlay 2
· MusicCast Surround capable: add MusicCast 20 or MusicCast 50 speakers to create a 5.1-ch setup with wireless surrounds

· Phone input
To add to your listening experience, there are many speakers to choose from when considering indoor surround sound. We recommend Heos, by Denon, because they couldn't be any more user-friendly. These compact, high-performance speakers can be placed nearly anywhere in your home with ease because they receive signals through the air and deliver fantastic fidelity at a lightning-fast speed. This also means they are easy to move around so you can find the best possible sound you're your indoor area. And best of all, you can control the wireless audio-video system with simple and intuitive apps on your smartphone or iPad. 
Here are a few quick tips for setup:
· For small rooms, try using a soundbar. Modern televisions usually have no problem with providing quality sound, but it's a good idea to have a little something extra, even in smaller rooms. Soundbars pack multiple speakers into one low-profile design that helps spread the sound evenly about the room. 
· In-ceiling speakers are often a great option. Having audio coming from various locations within the room is the best option for premium sound. This is because the sound can envelop you as you watch and listen, as the sound comes from different directions, such as left, right, and center. Rather than setting speakers on the ground around the room, where they can sound muffled, consider places the speakers around the room in the ceiling. Now your speakers are safely out of the way but able to provide an optimum level of performance.
· Mount your speakers up high to enable surround sound. Great surround sound usually means six total audio channels—one for the center, one to the left and right, and two for the rear, plus a subwoofer. The rear channel is usually the biggest challenge for people because, most often, they place this speaker too low. The center channel speaker in the most important and the one we recommend- this speaker helps to hear the dialogue, which most people can't hear easily. It is essential that the rear speaker sits high enough to engulf the room, so it can evenly spread the sound around the room.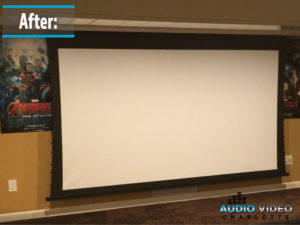 Installing WiFi and Improving Speeds
Getting your WiFi hooked up and running is important, especially these days with more and more people working from home. Once you have moved in, we recommend purchasing and installing the AMPLIFI AFi-R AmpliFi High-Density Home Wi-Fi Router. We like this router because it has a turbocharged system that uses multiple self-configuring radios to provide high-level connections anywhere in your house. Even better, it's not bad to look at. With its square, modern look it can be placed anywhere in your house without looking like an eyesore—you know, like those other routers that come as tall, ugly stacks.  
However, if you find your new home struggles to maintain a strong connection, Ubiquiti routers (access points that broadcast a Wi-Fi network) can also be installed around the house to increase speeds. We can even come and hardwire any possible connections to ensure you are always connected, but before we look into any of these options, you need to test your current Wi-Fi speed. From there, we can better assess your situation and figure a way to get you up and running much faster. 
The important thing is not to settle for lagging internet speed. The process of figuring out why your internet is slow may seem daunting, but at Audio Video Charlotte we have found a number of ways to identify the culprit for slow internet, and we are happy to share them with you.
Moving into a new home can take a lot out of you. And at the end of the day, wouldn't you rather see a clean, organized setup rather than a pile of wires? Let Audio Video Charlotte help get your new place hooked up right by simply having one of our technicians come to assess your specific situation.