The beauty of technology is that it continues to get better and easier for consumers to use. Everyone wants an audio-video system that has seamless connectivity and offers versatility. There are so many audio platforms out on the market, but the one that we love is HEOS (Home Entertainment Operating System).
HEOS offers music from anywhere in your home, with control at your fingertips with a smartphone or tablet.
Quick control is just one of the reasons why we love HEOS and how it upgrades your home theater.
What is HEOS?
HEOS is a new wireless multi-room sound system from Denon that allows users to play their favorite music using a home WIFI network. The audio platform is available through Denon receivers, select Denon wireless speakers, and soundbars. Just use your smartphone to stream music using your home's WIFI or connect with Bluetooth. You don't have to be in the same room as the device. Just open the HEOS app to stream or hear music played through your speakers or home theater system. 
What Denon receivers have HEOS built-in?
Denon receivers, except the Denon AVR-S540BT, have HEOS built into the receiver. For as little as $499, you can buy one of our best sellers, the AVR-S660H, and start enjoying HEOS. One thing to mention is that the company that makes Denon also owns Marantz. Marantz receivers offer elevated sound for movies and music and, like Denon, are equipped with HEOS technology.
What if your system does not have HEOS? Can you access the audio platform? 
The answer is yes. You will need to buy a product with HEOS built-in or the HEOS Link. If you want to use the HEOS app but don't want to buy a Denon or Marantz receiver, check out the HEOS Link. The HEOS Link is a streaming music player with built-in WIFI and Bluetooth that connects to a home theater speaker system or soundbar to give you the HEOS capabilities. With the HEOS Link, you can stream music from your smartphone or any other compatible audio device.
How The HEOS App Works
You first have to download the HEOS app: HEOS on iOS or Android to access the app. After installing the HEOS app on a smart device or smartphone, follow the instructions below to start listening to your favorite music in minutes with this simple setup process. One thing to mention is that there is no subscription cost for the app. You will be able to log into the accounts that you already subscribe to like Pandora, Amazon, and Apple Music. The TuneIn radio offered through HEOs is free.
Step 1
Find and launch the Free HEOS app. Make sure you are connected to your network.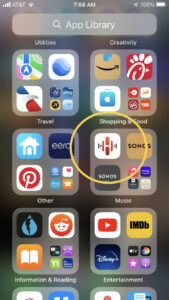 Step 2 
Once the app is opened, go to the bottom of the page and tap on the little house "Home" button.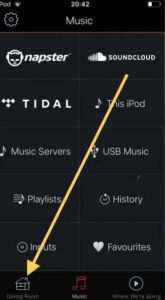 Step 3 
Use the slider to power the correct zone, either zone 1 or zone 2. 
The picture below is a reference picture. Yours may look different depending on equipment, but the slider principle is the same. If the slider button is grey, it is off, and if it is green, it is on. 
Step 4
Once the zone is on, double tap the music note icon to return to "Home."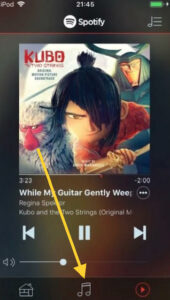 Step 5 
Pick a music service like TuneIN, it should already be set up and account activated!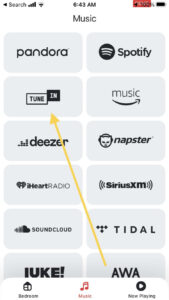 Step 6 
Pick your music. You then get into the 250,000 stations, so find a genre of music you like; it is all in alphabetical order.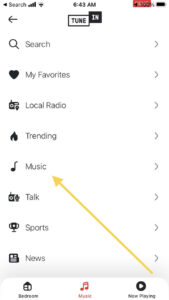 Step 7 
Once you have picked your radio station genre, hit "PLAY NOW."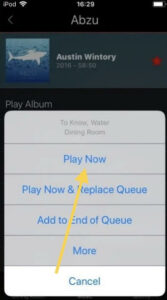 Adjust the volume using the up and down buttons on the side of your phone. If you have both zones on, two-volume sliders will appear at the bottom of the app—one for each zone.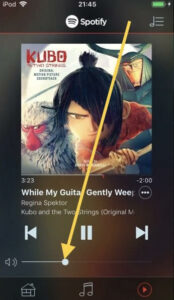 We have been selling audio-video equipment by Denon since the 90s, and it's no secret why their receivers are our favorite. Denon and Marantz make great products and introduce easy-to-use technology. HEOS is a $400 add-on in every Denon and Marantz receiver we install, making it the best value for our clients. If you buy an $849 Denon receiver like the Denon AVR-S960H, you're getting an incredible deal because you have this technology that you would have to buy separately with a different receiver.
If you are ready to upgrade your home audio system, give Audio Video Charlotte a call. We offer only the best in audio-video technology to get you watching movies and listening to your favorite tunes in unrivaled clarity and sound.