We love Apple's rollout of Spatial Audio, and it does not disappoint! Listening to your favorite songs with Spatial Audio is like listening to them for the first time, and the music taps into your senses, making you feel every vocal, chord, and beat. It feels like you are in the heart of the music, and it's incredible, but how does it work, and how will it change music production moving forward?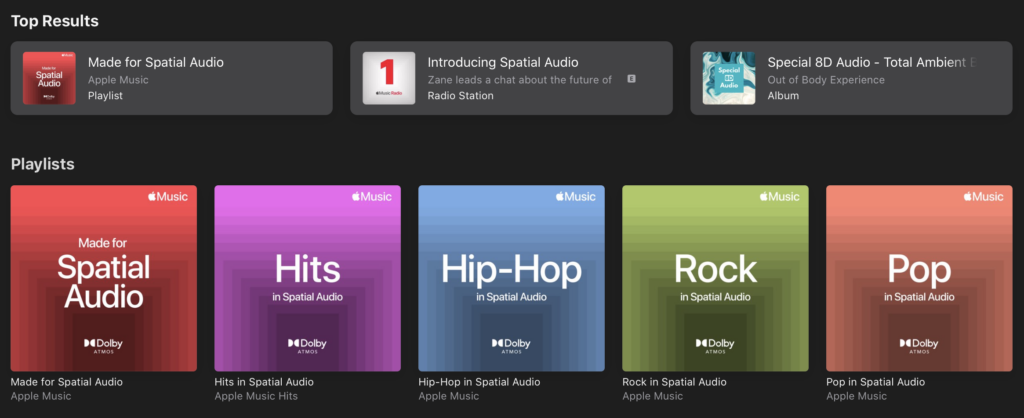 Dolby Atmos
In 2021, Apple introduced the next generation of music with the release of Spatial Audio with Dolby Atmos feature for Apple Music as part of the iOS and iPadOS software updates. Thanks to Dolby Atmos, you are fully immersed in songs with a three-dimensional listening experience (if you haven't listened to it, here's a playlist of of Hits in Spatial Audio). Just listen with any compatible headphones or Dolby Atmos-equipped audio-video device.
So how does it work? Traditionally, when you listen to music or sound through regular headphones, you are listening to right and left speakers with stereo sound. With Dolby Atomos, the sound is heard and felt all around you.
Dolby Atmos is known for taking the Dolby surround sound setup a step further by adding a third dimension, the overhead dimension.
Musicians can now create songs by placing specific details, vocals, and instruments in the music to give unparalleled clarity and depth. When listening to Spatial Audio with the Dolby Atmos feature, sound comes from around and above you just like it would if you were sitting in a room surrounded by speakers.
How to Access the Music
To access Spatial Audio, you just need Apple Music and a quick setup on your iPhone or iPad. All Apple Music subscribers can listen to thousands of songs with Dolby Atmos using any compatible headphones. Compatible headphones include AirPods, BeatsX, Beats Solo3 Wireless, Beats Studio3, Powerbeats3 Wireless, Beats Flex, Powerbeats Pro, or Beats Solo Pro. You can also hear music in Dolby Atmos using built-in speakers on compatible iPhones, iPads, MacBook Pros, or by Apple TV 4K with a compatible TV or AV receiver. Music in Dolby Atmos will play automatically when available.
To turn on Dolby Atmos, follow these quick instructions on your iPhone or iPad:
Open Settings and go to Apps
Choose Music.
Select "Dolby Atmos"
Change the setting to "Always On."
On a Mac, enable the setting to download Dolby Atmos in the preferences menu of Apple Music. For full instructions, click on the link for Apple support.
Out of the 75 million songs on Apple Music, there are only a few thousand tracks with Dolby Atmos, but new albums are sure to be supported with this feature. Artists are also reworking older songs and releasing them with Dolby Atmos so more are definitely coming.
We know not all of us just enjoy music from our headphones, and that is what makes having Apple TV 4K so important. You have heard us talk about this streaming device as being the best, and the fact that you can access Spatial Audio with Dolby Atmos from your TV also gives this device more points. When Apple TV 4K is partnered with a Marantz or Denon receiver, you will get that same Dolby Atmos surround sound since this is a built-in feature of these receivers. Some of our favorites that we carry include:
Marantz SR5015 receiver with Heos built-in and voice control
Denon AVR-X1600H 7.2ch 4K Ultra HD AV receiver
If you have any questions on Dolby Atmos and want to create a home theater where you can listen to this awesome experience, give us a call today at 704-287-3334 or find us at Audio Video Charlotte to schedule an appointment. We can help you upgrade your home entertainment system so you can start feeling the sound, it's that easy.