Be "the host with the most"! With the help of Audio Video Charlotte, you can be the neighbor with the most amazing home theater, sound system, or outdoor entertainment area in the hood!
Cut The Cord – Save Money!:
If you are still hostage to Spectrum, we can set you free!  You don't have to be a streaming media expert to make the switch.  Simply answer a few questions like "What's your favorite news channel?" or "Do you watch movies on the weekends?".  Our experts will select the right combinations of Hulu, Roku, Amazon and other low-cost products to give you the perfect set up.  We buy all the products, bring them to your home AND, we'll even call Spectrum to cancel your current services.
Home Theater: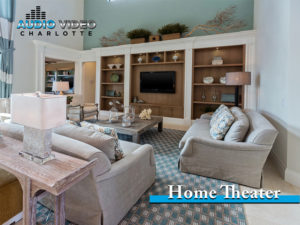 Do you have a vision, but not sure what you want your home theater to look like? Audio Video Charlotte excels at home theater design and installation. Did you know that you can install speakers behind furniture, along with a subwoofer, to make family movie night come to life? With your vision and our expertise, your home theater will be sensational!
We offer a free in-home consultation when you are ready to make the change! We come in, look at your space, and check your cabling capacity. We have years of experience building out family rooms, man caves and large entertainment areas.  Audio Video Charlotte partners with Apple TV 4K ,  Sony Televisions & Home Theater , and Universal Remote Control (URC). These highly rated products offer quality and scalable solutions for family and group entertainment systems.
Outdoor Entertainment: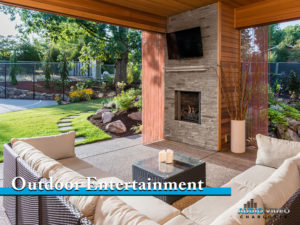 If you like to be outside, there is no reason you should miss the game, or the family movie.  Our patio solutions are easy to install and surprisingly affordable.  Audio Video Charlotte has the tools to bring your backyard to life. The SunBrite Outdoor Televisions  have a beautiful picture quality and are reliable in outdoor settings. Our systems are water-resistant, sun-resistant, and range from a 43-inch to a 75-inch screens. For sound, we recommend pairing your media system with HEOS by Denon outdoor speakers. These speakers are durable, and are ranked by audio enthusiast as a top pick.
Sound Systems:
Want to be the envy of your neighbors?   A professional sound system throughout your entire house is the ultimate luxury!  You will love the experience of speakers in every room.  Using central control area technology, you will be able to change the volume and song from anywhere in your home- all completely wireless!
At Audio Video Charlotte, we partner with the best sound system people in the game like Marantz (Speakers and Receivers), Definitive Technology , and SnapAV. We bring your home to life with discrete speakers in the ceiling, walls, and even behind the furniture! Would you like an estimate?  We know you will be excited about the affordable sound system technologies we have to offer.
Give us a call today at 704.287.3334 and schedule a FREE In-Home Consultation!