It's the beginning of a fresh new year. After 2020, that means even more than it typically would for many individuals and households across the globe. While eating better and exercising more are excellent resolutions to make for any new year, they're not the only ways to improve your life. Taking time to kick back and relax from time to time—whether it's by yourself or with family or friends—can also go a long way in adding joy to your routine. And what better way to accomplish that than by boosting your home entertainment capabilities?
Maybe you want to host watch parties for upcoming sporting events, Super Bowl Vl, (or simply watch the events yourself). Maybe you want to catch up on shows and movies you've missed out on. Or perhaps you want to take your gaming experience to the next level. Whatever your reason(s), now is a great time to upgrade your TV and home theater system. And Audio Video Charlotte is here to make that process as easy as possible. Below, we'll discuss three TVs worth considering, as well as some general home theater upgrades that can turn your space into an entertainment dreamworld.
TOP-NOTCH TV UPGRADES
You can't have a great entertainment setup without a great TV. If it's time for you to step it up in that category, we've got a few TVs that will do the trick:
Samsung Frame 65"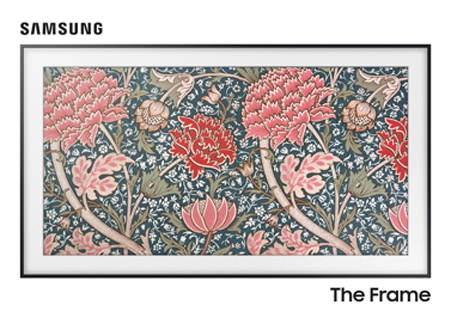 The Frame was introduced by Samsung in 2018, and though it was a groundbreaking idea at the time, the original models demonstrated color and brightness issues, among other problems. As of 2021, however, The Frame has undergone several improvements, and it's truly an all-around excellent QLED TV that can add to the aesthetics of your living room, even when you're not watching it.
The primary selling point of The Frame? It's an excellent TV for watching purposes, and it serves as a legitimate platform for displaying your favorite works of art. Let's talk about these two functions in a little more detail:
It's a TV.
Simply put, The Frame's TV functionality is fantastic. The 4K image is exceptionally high-quality. Perhaps most of the content you watch is not in 4K; don't worry, other resolutions look stunning too.
The Frame uses Samsung's Tizen operating system, which is superior in almost every way as far as smart TV operating systems are concerned, particularly because it's so efficient and easy to use. The TV also uses Samsung's built-in app store, which features Netflix, Hulu, Amazon Prime Video, Apple TV, Disney+, and pretty much all of the other popular streaming apps. It even makes it easy to use Spotify, Apple Music, and other music streaming services. What's more, The Frame makes accessing peripheral inputs, such as Blu-Ray players and gaming consoles, really simple by presenting them in its app tray.
It's a frame.


This is what truly sets The Frame apart from all other TVs on the market—the function that makes it one of the more original ideas we've seen in the TV manufacturing market in years. And the best part about it? It works!
The fact that The Frame is a TV and not a canvas means that it can only go so far in terms of displaying artwork in its truest form. That said, Samsung continues to improve The Frame's artwork picture quality each year through its QLED technology. An inevitable glow keeps The Frame from providing an adequate substitute for viewing pieces in an art museum. But it still looks good, and many people have found that they prefer the digital art portrayal over the other option: a black screen on the wall.
The Frame is a little thicker than most flatscreens on the market today, and you can get customizable bezels to frame your TV in either white, beige, brown, or black. Thus, it actually looks like a frame hanging on the wall, especially from a distance. That said, even the default slimline black frame (without bezel) looks great too. Moreover, The Frame comes with one simple cord that connects the OneConnect hub, which is provided with the TV. In other words, every aspect of The Frame is meant to provide consumers with a seamless, clean design.
Sony A8H OLED 55"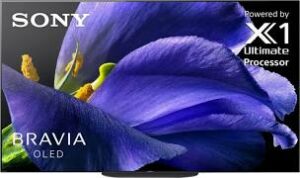 OLED TVs are known for their superior blacks and contrasts. This is because OLED technology emits light and colors from pixels rather than through filters and panels (like with LED, LCD, and QLED TVs). Since OLEDs create images through individual pixels, it leads to impressive blacks and contrasts, though they usually work best in dark rooms (they can't get as bright as some other TVs).
What makes the Sony A8H OLED 55" stand out from other OLED TVs is the fact that it uses Sony's X1 Ultimate Processor, which provides superb image processing, content upscaling in real-time, and HDR upscaling, among other functions. This makes for dynamic 4K and HD content, as well as SDR content that remains true to its original intentions but sharper and subtly more vibrant. In other words, it offers a cinematic experience right there in your living room (or wherever else you might post up).
Another impressive aspect of the Sony AH8 OLED TV is its sleek design. The bezel is so thin it appears that the screen goes all the way to the edge. Even though it falls within the mid-range pricing bracket, the AH8 looks (and acts) like a flagship model. Moreover, it makes all the major streaming services easily available, offers voice control, and works well with peripheral inputs.
TCL 6-Series 65"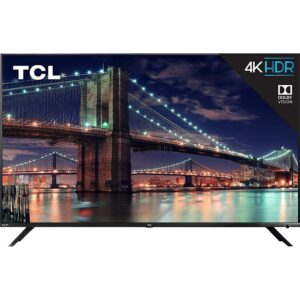 Finally, if you're looking for a budget-friendly TV, there are a number of models that are worth looking into. We've chosen one TV in particular that falls under $1,000 and provides exceptional performance for the money. The TCL 6-Series 65" will get you closer to a top-notch QLED or OLED TV than any other budget TV on the market. In fact, the 6-Series has performed so well in recent years that some experts now consider TCL as a legitimate competitor to Samsung, Sony, and LG.
One factor that makes the new 6-Series so great is TCL's Mini-LED backlighting technology. This novel technology uses thousands of small LEDs instead of hundreds of larger ones, which effectively renders more control of dimming. The result is a QLED display that rivals OLED in black levels and contrast.
The 6-Series 65" comes in at around $900, which is the best value you will find for such a stellar TV. It uses the highly-touted Roku operating system, Dolby Vision, Dolby Atmos, and HDR10. Similar to the Tizen operating system, Roku OS makes it really easy to navigate and access apps like Netflix, Hulu, and other streaming services. The TV also offers a built-in voice control along with Amazon Alexa and Google Assistant compatibility.
This also happens to be a spectacular TV for gaming, largely due to the shadow details brought forth by the Mini-LED backlighting. Furthermore, the new 6-Series comes with a THX Certified gaming mode, auto game mode, and AMD FreeSync variable refresh rate (VRR) technology.
HOME THEATER UPGRADE IDEAS

Sure, the TV might be the focal point of your home entertainment setup, but it's not everything. You need great audio quality for your viewing (and listening) experience to be made complete, and Audio Video Charlotte can get you set up! Here are a few home theater components to consider adding/upgrading:
Speakers
Compared to relying on the TV speakers, using a soundbar can significantly upgrade your audio, especially when it comes to hearing dialogue on shows and movies. However, if you really want the full cinematic experience, you should consider getting a set of home theater speakers that includes at least:
A center speaker

Right and left front speakers

Right and left rear speakers

A subwoofer
This kind of setup will take your experience to the next level, but it's just a starting point. You can add even more speakers, such as a special effects speaker (for Dolby Atmos) and an extra subwoofer. When putting together your home theater system, stick with one brand of speakers to optimize the flow of sound.
Amplifier
Your speakers are only as good as the amplifier that powers them. If your amp doesn't provide enough power, or if it's outdated, then it will quelch and/or distort the quality of your speakers. This is true whether you're trying to enjoy modern movies, shows, games, or music, since their sound is produced with such extensive dynamic range. And it doesn't matter whether you're watching or listening at a high or low volume level; make sure your amplifier can provide the output you need.
Receiver
Your receiver is what connects and powers every other component of your home theater system. As with the amplifier, you need a high-quality receiver to power your speakers. Otherwise, the quality of your speakers will, again, not be able to produce at full potential. In fact, a top-notch receiver can even make average speakers sound better. Therefore, if you already have decent speakers, this might be the first thing you want to upgrade.
When shopping for receivers, consider all features involved. Some manufacturers exaggerate the power level of their receivers, so if you see a receiver that's supposed to provide 100W per channel, don't take it at face value; the true power level could be 60W. An experienced audio video professional will be able to walk you through the process.
Placement
While the components of your home theater system are obviously essential, so is where you put them. Don't just assume that your speakers will sound best if they are in the corners of the room. Oftentimes, the left and rear speakers work better along the sides of the wall. Subwoofers sometimes produce their best sound when placed in the corner of a room, but in other rooms, they sound better beside the sofa or chair you are sitting in. In almost all instances, the center-channel speaker should go under the TV.
Finding the perfect spots for all of your speakers may require some trial-and-error (or the advice of a professional). But once everything is in its right place, you should be able to use your receiver's auto-calibration system to capture optimal sound quality.
PROFESSIONAL INSTALLATION
Finally, remember that working with professionals can make the process of upgrading your home entertainment setup much easier and less stressful. At Audio Video Charlotte, we'll meet with you to discuss your needs and wants, and help you choose the ideal equipment for your budget and living space. Then, we'll come in and install everything and teach you how to use it. It's that simple.
Conclusion
Upgrading your home entertainment setup is a great way to add a little (or a lot) of fun to your everyday routine. And with social-distancing restrictions still in place, this the perfect time to do it. Look into the TVs listed above, as well as the tips for improving your home theater audio system. And of course, give us a call at Audio Video Charlotte for a free consultation. We can make the entire process easy-peasy for you!