The Samsung Frame TV is a beautiful work of art and includes Samsung's intelligent 4K QLED screen technology.  Samsung has really raised the bar with all of the TV's features such as ambient modes, the No Gap Wall Mount, Bixby voice assistance and simple cable solutions.  This tv is not just a great addition to your home theater but an attractive piece of furniture for your space.
Renowned Picture Quality QLED
The Frame TV is equipped with a 4K QLED panel that is rich with color and contrast levels.  With over a billion shades of brilliant color powered by Quantum Dot display technology, this TV delivers the most realistic picture.  According to a German testing association named Verband Deutscher Elektrotechniker (VDE), this technology offers the world its first 100% color volume. Quantum Dot display ensures the viewer will see consistent color quality despite any angle or brightness of the room.
Bringing the Art Gallery Home
When the tv is not in use, the ambient modes eliminate the large black screen and transforms the TV into a welcoming focal point.  The ambient modes do everything from blending the TV into the wall behind it or enhancing the room with images or information like time, weather or news. These images can even be grouped and accompanied with music.
Samsung has also partnered with art galleries around the world to develop a catalogue of screensavers.  Through their Art Mode, you can find artwork with choices based on color or artist.  When the TV is in the dark or when no one is nearby, the TV turns off to save power.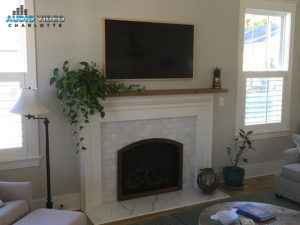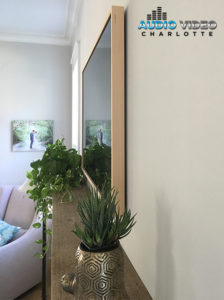 Smart Features
In addition to the picture quality and standby modes, the Frame TV has many other features that make it unique.  Consumers can customize their TV based on their design preference by buying a frame or studio stand. The frames are available in black, white, beige or brown and sold separately.
With the No Gap Wall Mount, which is included with the TV, your TV hangs snug against the wall and only has one slim cable combining power and signal.  This makes the Frame TV a great choice for hanging over any fireplace and makes for easy installation.
Looking to upgrade your current television?  Check in with Audio Video Charlotte about Samsung's early Black Friday sales where you could save up to $1,200 on a new Frame TV and have expert installation all before the holidays.